My posts may include paid links for which I earn a commission.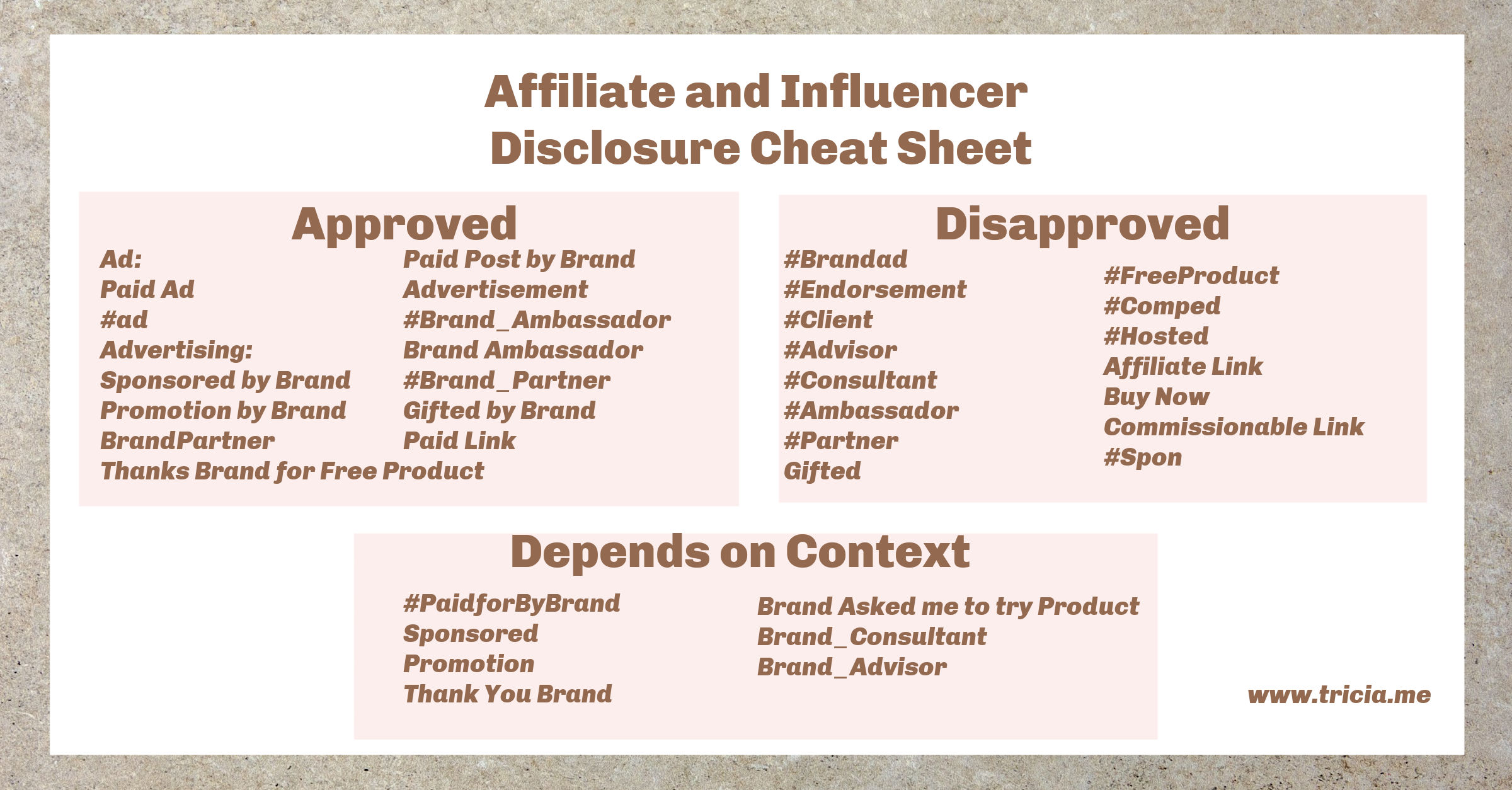 Now that we have had some time with the newly revised FTC Disclosure Guidelines, we are starting to think about the practical application in addition to the big picture. One of the questions that I have been asked the most is about what exactly the FTC has said can and cannot be used for disclosure.
It's a little tricky because the actual "Guides Concerning the Use of Endorsements and Testimonials in Advertising" themselves do not give us examples but rather just the overall rules. So we have to look to other resource documents like "FTC's Endorsement Guides: What People Are Asking" and "Disclosures 101 for Social Media Influencers" to find specific examples right from the mouths (or keyboards) of the FTC. In addition to the shortened cheat sheet examples I give below, those documents give a LOT of other examples of "natural language" disclosures that can be used when speaking in videos, writing long-form content, etc.
Which Hashtags Can Influencers and Affiliates Use to Properly Disclose?
The FTC has given us three specific hashtags that are approved: #ad, #Brand_Ambassador, and #Brand_Partner. These assume that "Brand" is the advertiser name. The FTC clearly favors #ad, saying that the other two are "more understandable" than just #Ambassador or #Partner. That's not a lot of specific hashtag examples that the FTC does approve, but they do give us a lot of which they do NOT approve.
Which Hashtags Should Influencers and Affiliates NOT Use?
The FTC gave us a LOT of examples of hashtags that it does not consider to be clear enough for one reason or another. These include:
#Brandad
#Endorsement
#Client
#Advisor
#Consultant
#Ambassador
#Partner
#FreeProduct
#Comped
#Hosted
#Spon
How Else Can Influencers and Affiliate Properly Disclose?
Although the FTC was stingy with the hashtags, they did give us a lot of other words and phrases that can be used. One of their biggest complaints with hashtags in general seems to be that smushing all of the letters together makes them hard to read and understand. So merely separating out some of the words makes a lot of things more usable. Here are some specific examples that would be in compliance:
Ad:
Paid Ad
Advertising:
Sponsored by Brand
Promotion by Brand
BrandPartner
Brand Ambassador
Paid Post by Brand
Advertisement
Gifted by Brand
Paid Link
Thanks Brand for Free Product
What Other Disclosures are Not Approved?
Although there are a lot of disapproved hashtags, there are only a few other phrases specifically disapproved by the FTC due to them not being clear enough to consumers:
Gifted
Affiliate Link
Buy Now
Commissionable Link
Which Disclosures Depend on Context According to the FTC?
In addition to all of that, there are some places where the FTC has said that specific disclosures depend on context. One of these, Sponsored, is particularly interesting because they say it is fine in the Influencer 101 document but then say that it depends on context on the most recent document. Some of the others are going to depend on what they look like when written out (#PaidforByBrand) or what exactly the endorser is getting from the brand (Thank You Brand). Best just to stay away from these in the gray area:
#PaidforByBrand
Sponsored
Promotion
Thank You Brand
Brand Asked me to try Product
Brand_Consultant
Brand_Advisor
As a reminder, ALL of these disclosures are still contingent upon following the FULL set of disclosure guidelines (clear and conspicuous, unavoidable, etc). In addition, we sometimes get more specific examples through Twitter chats, FAQs, Letters, and other proceedings. We may even see some updates regarding these words specifically as people ask the FTC questions. See my full disclosure recap post for all the rules plus any recent updates!