We may earn money or products from the companies mentioned in this post.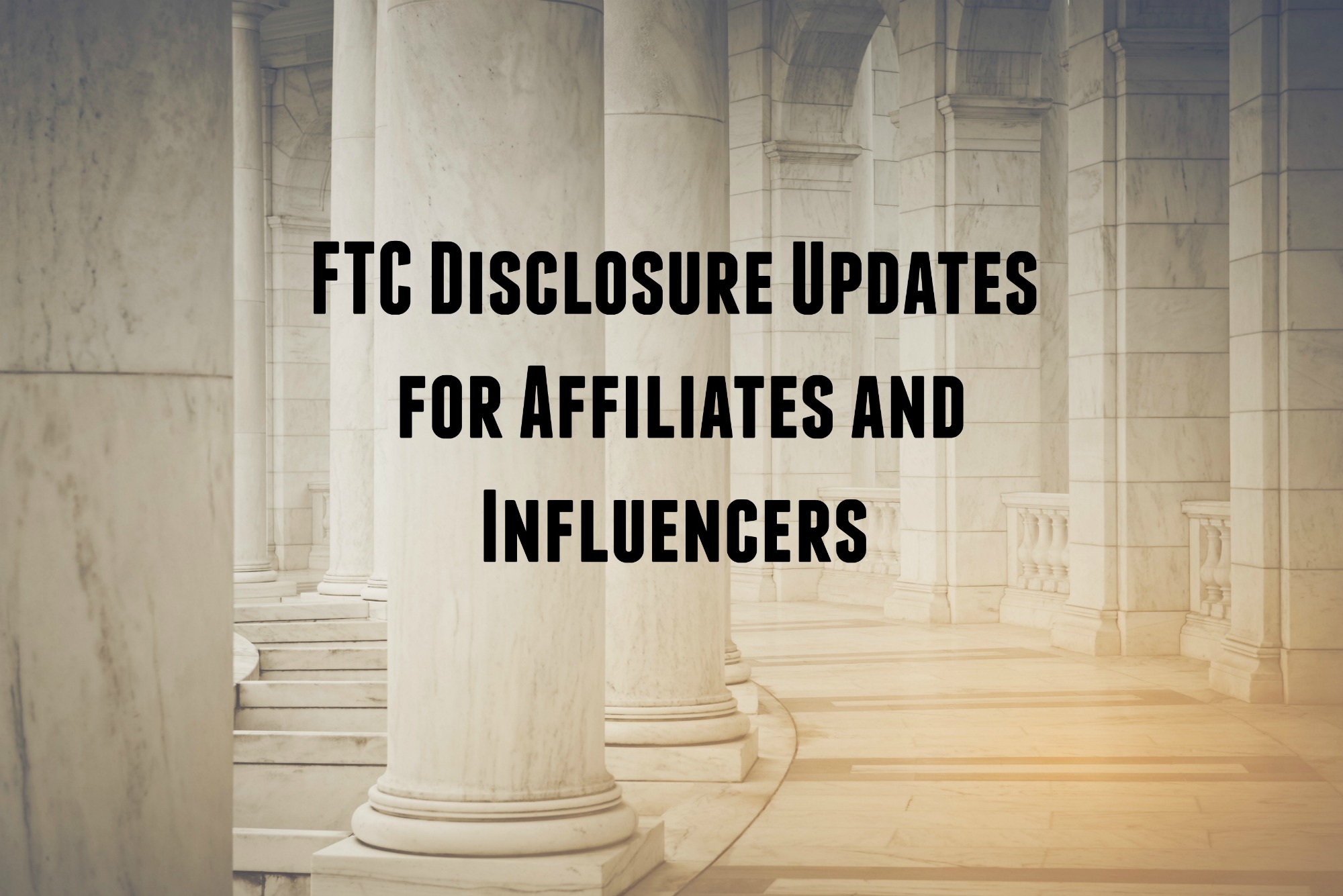 (Sign up for my newsletter to get updates!  Or follow me on LinkedIn or Twitter!)
(Updated 6/10/22) In 2013, the Federal Trade Commission (FTC) first updated its guidance for advertising disclosures in a guide called .com Disclosures: How to Make Effective Disclosures in Digital Advertising. The original guidance from 2000 left open many holes including advertising on mobile devices and places like Twitter and Facebook. Since then, the FTC has clarified much of what it originally wrote.
As affiliates, we have already been advised that disclosure must be "clear and conspicuous." The new document goes even further. In fact, it specifically states that disclosure at the end of blogs posts is not acceptable. Here are some of the highlights from the guidelines:
Consumer protection laws such as the FTC's prohibition on "unfair or deceptive acts or practices" apply to all media, including mobile devices.
Disclosures must be placed "as close as possible" to the claims.
If there is not room on the ad to disclose, it may be acceptable to make the disclosure on the page to which an ad links.
Scrolling should not be necessary to find the disclosure.
If it is too difficult on a particular platform to make disclosure clear and conspicuous, the platform should not be used for advertisements.
Advertisers should review their ads in the mindset of the "reasonable customer" and assume that customers do not read the entire page.
Pop-up disclosures should not be used.
Updates:
May 2022, the FTC proposed changes to the Guidelines. Read my full post on that and I will update this page once the actual update is passed. Comments will be taken through August 2, 2022.
On October 13, 2021, the FTC announced that it has put hundreds of businesses on notice about endorsements. The Notice of Penalty Offenses warned that the companies could incur a civil penalty of up to $43,792 per violation. One of the violations specifically mentioned was failure to disclose a connection between an endorser and the seller of a product if the connection might "materially affect" the endorsement and the connection would not "reasonably" be expected by consumers. See the list of the 700+ companies that were put on notice. It does NOT mean they were in violation but rather that they have been formally made aware of the rules.
On February 3, 2020, the FTC announced a settlement with an operator of a comparison shopping website. The publisher essentially ranked and reviewed financial products and received compensation from the reviewed companies. The publisher claimed the website information was "objective," "accurate," and "unbiased" but in fact ranked some of the financial companies based on the amount of compensation they received. A disclosure in the footer as well as a small disclosure link with popup higher on the page were not sufficient. The biggest takeaway from this settlement was that the publisher was found liable and had to pay $350K.
Furthermore, Commissioner Rebecca Kelly Slaughter said this in a Concurring Statement: "Companies that engage in pay-to-play rankings and ratings should take heed: This conduct robs consumers of vital information, pollutes our online marketplaces, and violates the law, which will result in serious consequences."
On November 5, 2019, the FTC released a new "brochure" for social media influencers. "Disclosures 101 for Social Media Influencers" is a very basic look at disclosures with lots of pretty pictures. In true influencer fashion, they even released videos to help explain it in plain language. Although there isn't really any new information in the brochure or the videos, a couple of things were made clear:
A "material connection" doesn't have to be money. It includes a personal, family, employment, or financial relationship, which also includes free or discounted products.
Tags, likes, pins, etc. are considered endorsements.
Non-U.S. companies have to comply if it is "reasonably forseeable" that the post will impact U.S. consumers.
Disclosures cannot be mixed into a "group of hashtags."
"Thanks to Acme brand for the free product" is sufficient without additional terms.
"AcmePartner" and "Acme Ambassador" are fine when space is limited (they specifically mention Twitter)
Abbreviations are not okay. "sp" and "spon" are not sufficient, nor are "thanks" or "ambassador" (which is weird because you can use "ambassador" with the brand name but just not by itself).
A platform's disclosure tool is not enough if the disclosure does not also satisfy the FTC guidelines.
The FTC held a Twitter Chat on September 20, 2017 to answer questions about influencer disclosure. Click here to read my full notes on that chat. Here are a few highlights:
The FTC reiterated (again this was in the FAQ) that #ad is sufficient and that it cannot be mixed in with other hashtags such that it gets overlooked.
Regarding Snapchat, Instagram and Pinterest: The FTC suggested that disclosure be superimposed over the images on these platforms. In addition, the disclosure should be "easy to notice & read" in the time the followers have to look at the images.
Images can be used as disclosures if they stand out, followers can't avoid it, and they understand it.
If you are posting blog links on social media, the disclosure on the blog is "probably good enough" as opposed to also disclosing on social media.
The FTC Updated its Frequently Asked Questions on September 7, 2017 to help clarify some of the questions in the guidelines. Highlights from that update:

Disclosure must be made in videos themselves in addition to the text around the videos.
Social media contests must include words such as "contest" or "sweepstakes" in the entries. (Clarified after the Cole Haan Pinterest Letter)
Products given free for review must be disclosed no matter whether the review ends up being positive or negative.
A button or hyperlink to a Disclosure page is not sufficient (they reiterated this again!)
Suggested disclosure on social media platforms includes "sponsored," "promotion," "paid ad," "ad," or "#ad" although those are not the only words that would work.
Merchants and recruiters need to have "reasonable programs" in place to monitor what their bloggers and other influencers are doing on social media to promote their products.
Affiliate marketers are specifically mentioned in the FAQ. Disclosure must not be placed "below your review or below the link to the online retailer."
The words "affiliate link" are not adequate disclosure.
Paid advertisements do not have to be disclosed if it is clear they are a paid advertisement.
No money needs to change hands for disclosure to required. It could be a quid pro quo or family relationship.
Affiliates in other countries are bound by the guidelines if their reviews would be seen by and effect U.S. consumers.
Saying "Thank you" to a sponsor is not enough. Nor is the hashtag "#ambassador".
How do these pertain to affiliate marketers?
The guidelines themselves are not particularly instructive, but the examples at the end of the guidelines are extremely helpful.
Example 14 in the guidelines is very similar to the types of recommendations that we do in blogs posts and across other media:
This is very similar to the Twitter or Facebook posts that most of us in affiliate marketing make. The FTC states that this Tweet would need two different disclosures: one that JuliStarz was getting paid for the endorsement (which would include affiliates) and the second as to the actual health claims being made not being typical.
Here's the rewrite suggested by the FTC:
The rewrite suggests placing "Ad" at the beginning of the Tweet. Further examples say that it is not enough to write in one place that you are being compensated and then not later refer to that compensation when you do the actual endorsement. The disclosure and the endorsement must be right next to each other. In addition, using "#spon" after the endorsement is not sufficient because consumers may not understand that "#spon" actually means "sponsored by an advertiser."
Example 21 specifically speaks to bloggers. The blogger received the product for free to review it. She disclosed that fact at the end of the blog post. However, because there are links in the blog post that might take the reader away from the post before they make it to the end of the post, the disclosure at the bottom of the blog post is not "clear and conspicuous."
Added: Here is more specific guidance previously from the FTC on the term "endorsement" where they do specifically implicate "affiliate marketing." Important to note:
"Would a button that says DISCLOSURE, LEGAL, or something like that be sufficient disclosure?" No. A button isn't likely to be sufficient. How often do you click on those buttons when you visit someone else's site? If you provide the information as part of your message, your audience is less likely to miss it.
"If it's clear that what's on your site is a paid advertisement, you don't have to make additional disclosures. But what's clear to you may not be clear to everyone visiting your site, and the FTC evaluates ads from the perspective of reasonable consumers." (This would likely mean banner ads and maybe widgets?)
"an endorsement would be covered by the Guides if an advertiser – or someone working for an advertiser – pays a blogger or gives a blogger something of value to mention a product, including a commission on the sale of a product. Bloggers receiving free products or other perks with the understanding that they'll promote the advertiser's products in their blogs would be covered, as would bloggers who are part of network marketing programs where they sign up to receive free product samples in exchange for writing about them or working for network advertising agencies."
Do you have to disclose on Pinterest?
Now that Pinterest is allowing affiliate links again, everyone wants to know if they have to disclose every link. The FTC has not specifically talk about Pinterest and affiliate links yet, but this makes it clear that Pinterest is included:
The FTC isn't mandating the specific wording of disclosures. However, the same general principle – that people get the information they need to evaluate sponsored statements – applies across the board, regardless of the advertising medium. The words "Sponsored" and "Promotion" use only 9 characters. "Paid ad" only uses 7 characters. Starting a tweet with "Ad:" or "#ad" – which takes only 3 characters – would likely be effective. (May 2015 FAQ)
Especially when you combine this with the Cole Haan Closing Letter regarding contest disclosure on Pinterest. The FTC is clearly including Pinterest in the disclosure guidelines.
Warner Bros. Settlement (Influencers, Videos, and Withholding Payments)
The FTC has now specifically said that you must audibly mention disclosure in a video. In addition, the Description box must have the disclosure at the top. Another important thing that came out of this settlement is that Warner Bros. must have Influencers sign that they understand the disclosure rules and then Warner Bros. must monitor for it. If the Influencers do not properly disclose, they must be cut from the program and have their revenue revoked. Read more here: FTC Settles with Warner Bros. Over Influencer Campaign
Disclosure on Instagram
A group called Public Citizen sent over 100 examples of Instagram posts to the FTC, complaining about the lack of disclosures. The FTC reviewed them and then sent more than 90 letters to "influencers and marketers" reminding them about the disclosure guidelines. A sample letter was released stating that disclosure needs to be made in the first 3 lines of the text because not all consumers will click on the "more" button. The FTC also stated in its press release that the following are not sufficient: "#sp", "Thanks [Brand]", and "#partner".
As of September 2017, the FTC has followed up with warning letters to over 20 social media influencers who are continuing to violate the law after having been "educated" once already.
On November 13, 2018, the FTC announced a settlement agreement with a PR agency over 2 Olympian influencers not properly disclosing on Instagram. (Key Takeaways from New FTC Disclosure Settlement) They also seemed to indicate again that "Thanks" was not sufficient.
You may also want to read:
Blogger Involved in FTC Lawsuit for Failure to Disclose: This is one of the biggest applications of the Guidelines so far. Both merchants and bloggers need to read my post on this case because it reiterates in practice much of what I said above. The merchant and the agency were held liable for the blogger's failure to disclose. This was a paid placement rather than an affiliate relationship, but the principles are the same.