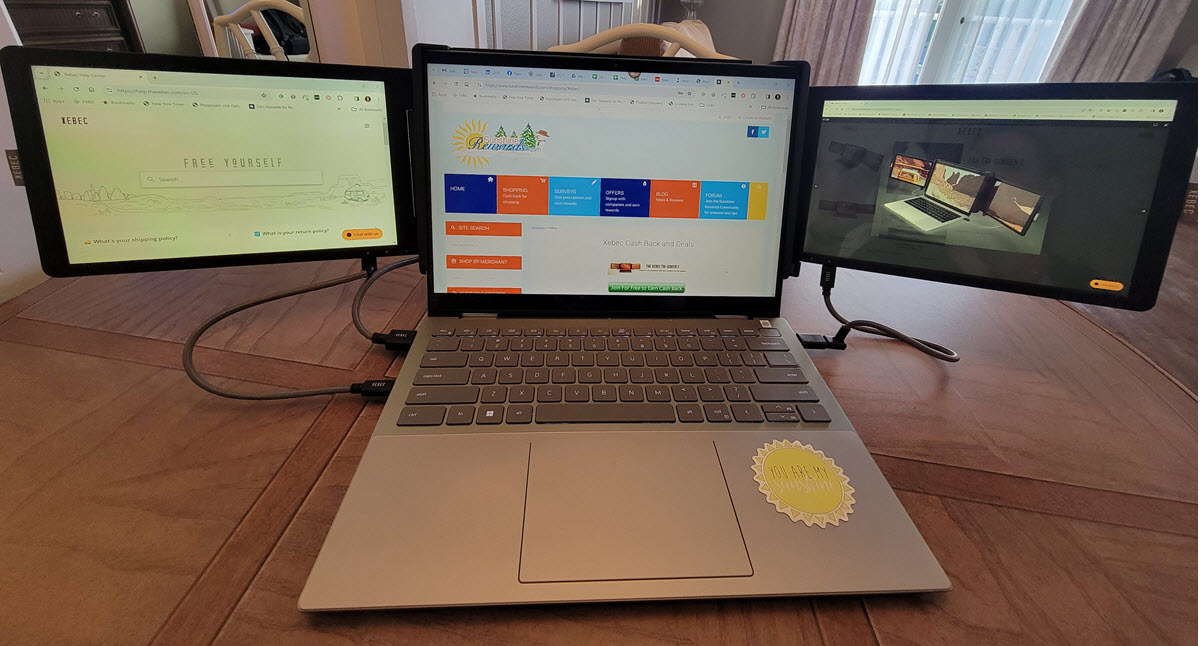 I don't often review products on this site, preferring to keep it focused mainly on affiliate marketing. But when a friend reached out to me on LinkedIn about a product she is working with, I knew immediately it would be right at the intersection of writing about affiliate marketing and actually DOING affiliate marketing!
(Disclosure: I was sent a Tri-Screen 2 for free to review. In addition, this post contains my affiliate links to earn commissions on the product. The review and experience with the product are 100% my own!)
Affiliate Marketing on the Road
The last 3 posts I have written on this site have been on the road. I've always said that one of the best things about being an affiliate marketer is being able to do it from anywhere. Now that I am an empty nester, I am REALLY taking advantage of that! In fact, today I am working from my happiest of happy places– Disney!
Less Productive On Laptop?
When I am at home, I have three screens. I always keep the same things in the same order. I'm almost always using at least two screens at once to copy and paste things… compare things… watch a video while multitasking. When I am on the road, my productivity drops significantly because my one laptop screen is not enough and I waste time switching tabs and it's hard to make things big enough to see two things at once when I am writing posts or creating images.
In the past I would just avoid doing a lot of tasks while working from my laptop because I knew I wouldn't be efficient at them. But as of this week, I am officially as productive when traveling as I am at home!
---
For a limited time take $75 off the Xebec Tri-Screen 2!
---
Setting Up 2 Extra Screens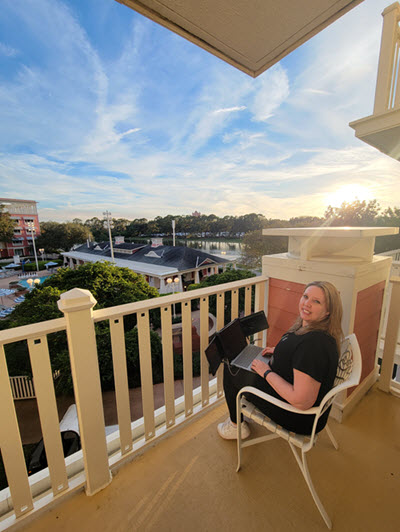 When Blagica reached out to me about reviewing the Xebec Tri-Screen 2 and joining their affiliate program, I immediately jumped at the opportunity because I wanted so badly to find a product that would work for me. I've borrowed my husband's portable second screen before and it was a step up from one screen, but it was also weird because it didn't line up exactly with my laptop and it was at a weird angle.
When the Tri-Screen 2 arrived, I was at first a little bit overwhelmed by the number of cables. The tricky thing about a product like this is that for it to work for everyone (and it does), they have to plan for a lot of contingencies–what type of laptop do you have? how many ports and what kind? are they your only charging ports? So it comes with a lot of different cables!
I practiced setting up the screens at home before taking them on the road because I wanted to make sure I had everything I needed. Sitting at the dining room table, I was able to quickly open up the screens themselves and slip them around my laptop to the perfect position.
When it came time to connect everything, I followed the instructions carefully and did have to experiment a bit to figure out the best cable setup for my laptop, including watching the helpful online videos they provide.
For me, I ended up using an HDMI port plus two usb-c ports. This was the best way to set mine up and not have to worry about charging my laptop at the same time. But your setup may be completely different.
Xebec Tri-Screen 2 Is a Travel Dream!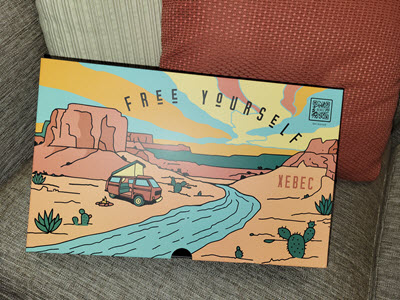 Within a week of receiving my screens, it was time to travel for the first time. While the Tri-Screen 2 is light enough (2 pounds) to fit in your laptop bag or backpack, I elected on this trip to put it back in its travel box along with the exact cables for my laptop and put it in my suitcase. I think most people would just carry it in their travel bag, but I was traveling on this trip with a cute Disney purse rather than an actual laptop bag.
When I arrived in Disney to set everything up, it was the evening of Cyber Monday and I had so much to do online. I was able to unpack and connect all of the cables in about 2 minutes, adjust my screen and sound settings, and start work within 5 minutes. Everyone knows that as an affiliate marketer, you run a LOT of reports the Tuesday after Black Friday to see how everything went. Having 3 screens instead of 1 laptop screen probably cut my work in half.
The screens are obviously smaller than my main laptop screen, and I also adjust the display so that the font sizes are a bit bigger on those screens because my eyes aren't getting any younger. But even with both of those things, I am able to see enough on the screens and they are lined up at just the right height so that I can quickly glance between screens seemlessly (the cursor also seemlessly moves across them!).
---
For a limited time take $75 off the Xebec Tri-Screen 2!
---
Having 3 Screens Is a Game Changer
I'll never go on a trip of more than a few days without my extra screens again. It's one thing to just get light things done on your laptop like checking email. It's something else entirely to actually be working with reports and doing full content creation while also monitoring Slack and email and socials. If you or anyone you know works on a laptop like that and doesn't already have extra screens, I wholeheartedly recommend the Xebec Tri-Screen 2. Consider it as a gift for someone else, or maybe just for yourself!
Xebec Tri-Screen 2 Review Basics
Weighs only 2 pounds
Works with any laptop
Can stay attached to your laptop while you close and transport it
Superb written and video instructions (even for someone like me)
Use one the road or even at home when not in your office
Makes a great gift because anyone can use it
Shipping takes about 2 days
Visit Xebec today and check out their other accessories as well!