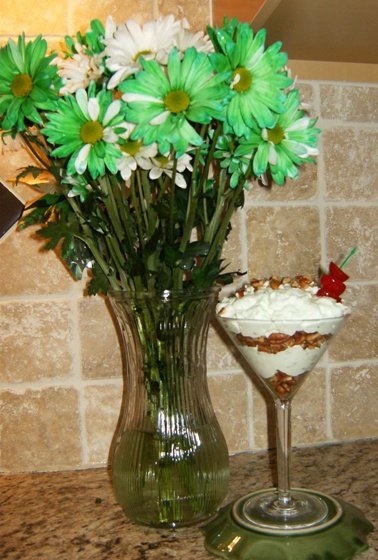 It's almost St. Patrick's Day and time to break out one of my favorite March recipes–Pistachio Fluff! It's perfect for parties because you can eat it as either a salad or a dessert. I tend to eat it for both because I love it so much! The recipe does make 10-12 servings, so be prepared to eat a lot of fluff.
Pistachio Fluff
Serves 10 -12.
Ingredients
2 (3 1/2 ounce) packages instant pistachio pudding mix (we use sugar free)
2 (12 ounce) containers Cool Whip (we use fat free)
1 (20 ounce) can crushed Pineapple
2 cups chopped Nuts (we use pecans)
1/2 cup Maraschino cherries
1 (1 lb) bag mini marshmallows
Preparation
1. Chop the cherries but reserve a few for decoration
2. Mix pudding with cool whip and Pineapple with juice.
3. Add Nuts, chopped cherries and marshmallows.
4. Combine well.
5. Refrigerate for at least 24 hours so marshmallows can soften, but can be served after 2 hours.
6. Garnish with whole cherries on top.
I actually usually leave the nuts out and us them only to layer the fluff (as seen in the picture above), sprinkle them on top, or put them in a bowl on the side for people to use as the like (or don't like). You can also tint it a little darker with some green food coloring.
What are your favorite St. Patrick's Day recipes?