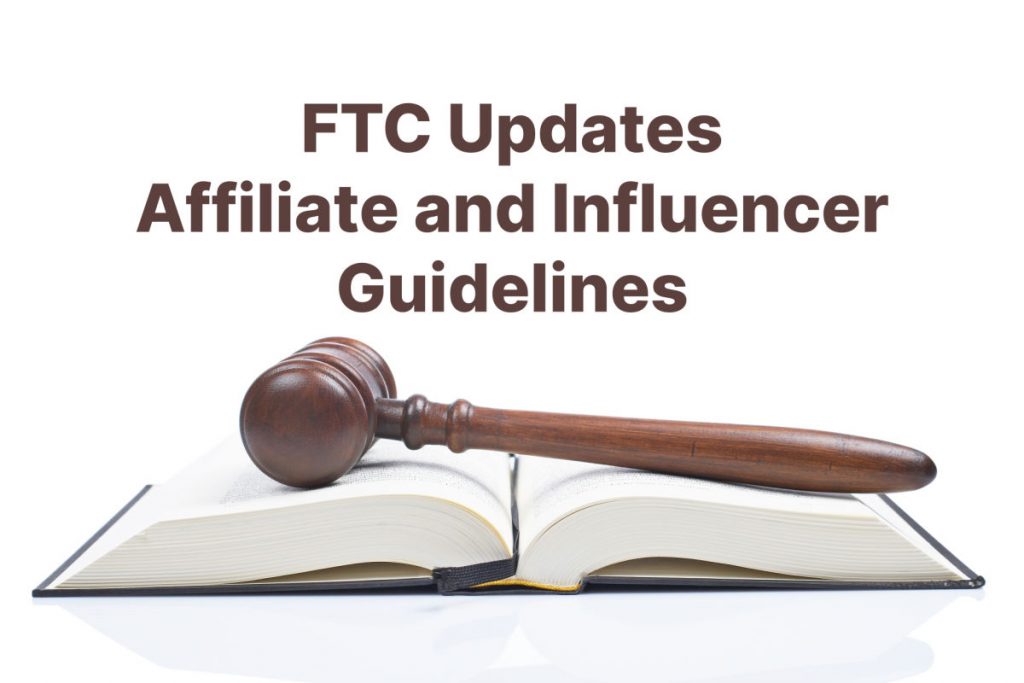 We have been waiting for this update for a LONG time and it is finally here! The FTC has updated its Endorsement Guides, which are the source of the disclosure rules that affiliate marketers and influencers (among others) must follow. I think my favorite part of this new update is the reference to "dog influencers." Most of this is what we expected when we saw the proposed guidelines changes back in May of 2022.
I'm breaking this down into two sections– what I think is most important for affiliate marketers and all of the other interesting stuff. It's 80 pages of Guidelines talk plus another whole site of FAQs, so there is a lot to cover!
First, the tl;dr for Short Attention Spans
Affiliate marketing and influencer marketing were heavily targeted
Everyone can now be liable–bloggers, influencers, affiliates, agencies, advertisers (no mention of tracking platforms/networks unless they are also acting in the capacity as agency)
"Clear and Conspicuous" means "Unavoidable"
Advertiser and intermediary responsibilities include 1) provide guidance on the rules, 2) monitor compliance, 3) take  action in the event of non-compliance
Reliance on disclosure tools built into social media platforms may not be adequate
Review sites cannot accept payment for rankings
Effective disclosure is based on who is being targeted as the audience (children, elderly, etc.)
FTC Guidelines Updates Most Important to Affiliate Marketers
Saying this loud for the people in the back because I see this wrong on so many "expert" sites. "Affiliate link" is not an adequate disclosure. Which means "Affiliate" also would not be adequate. Other related terms that are not adequate include "Buy Now" and "Commissionable Link." However, "Paid Link" is adequate.
Endorsers can be held liable for a review when they represent falsely that they personally used the product.
Tags in social media posts can be considered endorsements that have to be disclosed if the influencer has a material connection to the brand. For example, if you post a picture of your outfit and tag the brands you are wearing but you are also getting paid by them or sent free products. Simply tagging the brand is also not a sufficient disclosure.
An influencer cannot simply disclose connections to a brand on their profile page. The disclosure has to be done on the post and be unavoidable when viewing it.
Endorsers cannot rely on the built-in disclosure tools of a social media platform if anything in those tools would make the disclosure not satisfy the "unavoidable" and "clear and conspicuous rules." Use them but add to them if what they have isn't sufficient.
Whether a disclosure is effective will be evaluated from the perspective of the TARGET audience (e.g. kids or elderly or people who speak a foreign language).
So what about affiliate managers and agencies? We sort of got an answer. "Advertising agencies, public relations firms, review brokers… and other similar intermediaries" can be liable when they "create or disseminate endorsements" that they either knew or should have known were deceptive. But they can also be held liable when they "hire and direct" endorsers who do not properly disclose. Your company must have "reasonable programs in place to train and monitor the influencers you pay and direct."
What is the standard for monitoring endorsers? They won't give specifics. They say "reasonable efforts" and if you can't periodically search for what the endorsers are saying, you should consider having to pre-approve all posts.
Affiliate review websites that rank brands higher based on the site accepting money from the brand are deceptive and both the website owner and the brand can be held liable. The site can use affiliate links in general and disclose them as long as payments are not taken for higher rankings. Any "methodology that results in higher rankings for products whose sellers have a relationship to the operator because of those relationships" is misleading.
FTC Guidelines Additions and Clarifications That Are Interesting
For disclosures to be effective, they must be "unavoidable." 
Some examples given for adequate disclosure for videos are "This video is paid for by brand" or "brand paid me to tell you about it." Also "Company X gave me" the product or "The products I'm going to use in this video were given to me by their manufacturers."
Some examples given for social media are "Ad:" "Paid ad" "#ad" "Advertising:" "Advertisement" "Sponsored" "Promotion" "Sponsored by X" or "Promotion by X". Adding "ad" to the end of the brand name to create a hashtag is NOT enough. (#BrandAd) Saying "thanks" to the brand is not enough but saying "Thanks Brand for the free product" would be. The hashtag #endorsement is NOT sufficient. The hashtags #ambassador and #partner work only if you include the brand name in the hashtag (#BrandAmbassador). The hashtags #comped and #hosted are not sufficient for free travel.
Podcasters do not need to disclose content that is "obviously a commercial" and is fine as long as the podcaster upholds any views expressed.
A little more information was given about free products. If a brand sends a coupon to an influencer for free product and asks the consumer to feature the brand in their feed, any resulting posts would need to be disclosed. (this is where the "dog influencer" came in)
Advertisers are required to 1) provide guidance to endorsers on the rules, 2) monitor compliance, 3) take  action "sufficient to remedy non-compliance and prevent future non-compliance."
Advertisers need to not only instruct endorsers about the need to disclose their connection, they also need to give guidance that any statements made by the endorser are truthful and substantiated. 
If the endorser is an "expert" in the field, there are a lot of clarifications about how that should be handled.
There is an example about a woodworking influencer who is sent a lathe and for free by a brand and ends up using it in several videos and "comments favorably." The FTC says that if a "significant minority of viewers" is "likely unaware" that he got it for free, it needs to be disclosed. There isn't any type of exception made in the example for videos that may be made using that same lathe for years in the future. The Q&A page indicates "each new endorsement made without a disclosure could be deceptive because viewers might not have seen the prior posts."
Important Links