My posts may include paid links for which I earn a commission.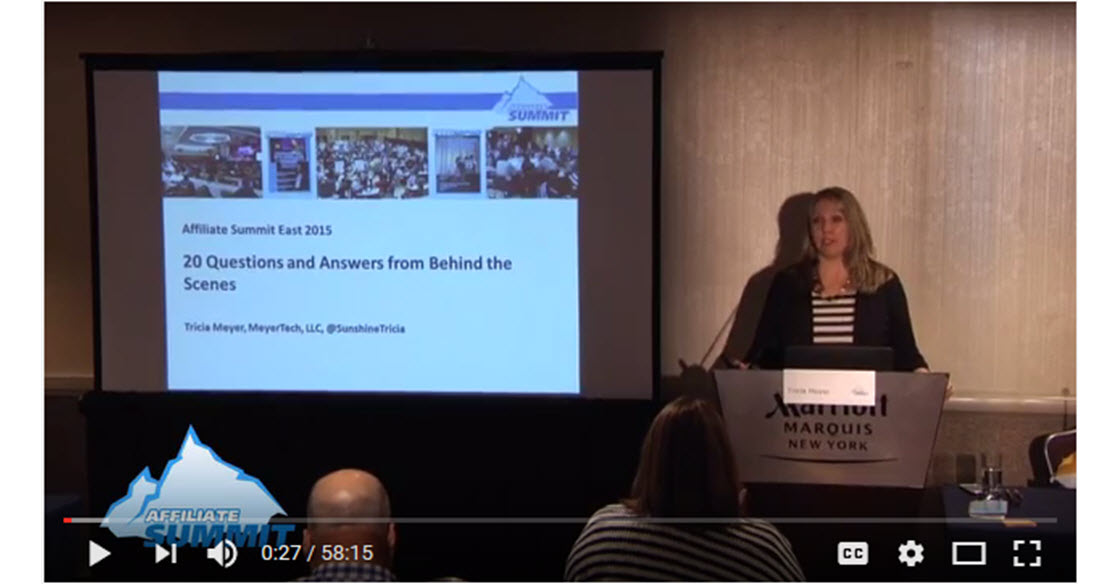 Last year when I was trying to figure out what to present on at Affiliate Summit, I wanted to do something completely different. Instead of focusing on one topic, I decided on "20 Questions and Answers from Behind the Scenes." I spent a solid hour sharing what I consider to be some of the best-kept secrets in affiliate marketing that have gotten me to where I am. The sessions was described as "I'm the person who spills the beans about everything from tracking to increased commissions to FTC disclosure. Learn from 10 years of my mistakes and successes in blogging, networking and marketing."
This week Affiliate Summit released the video for the session. I've embedded both the video and the slides below. The slides are only slightly helpful without the video that goes along with it so definitely check out both! Although a few things have changed in the last year, on the whole about 95% of it is still relevant.
Here are some of the topics I cover in the video:
VIP commission rates
Getting higher commissions
Best affiliate network
FTC Disclosure (updated FTC Disclosure information)
Sales not tracking
Merchants that steal commissions
Inbox Zero
Worthwhile niches
How a merchant can be helpful
Automation cheats (new! Datafeedr and WooCommerce)
Benefits of deep linking (bonus! FMTC Toolkit)
Networking with your competition
I've covered a few of the topics above more in-depth over the last year and have linked to them. In addition, I share more about some of them in my 30 Affiliate Marketing Tips in 30 Days Series.
[yikes-mailchimp form="1″]
I'm gearing up for my next Affiliate Summit presentation with Joe Sousa and Nathan Smith, so this was a nice reminder of what I think worked and didn't work for me last year. I'm interested to hear your thoughts as well!
(As an aside…how in the world did they just happen to catch me sticking out my tongue for the video preview? I suspect Shawn Collins had something to do with this)