I'll admit from the start that I haven't yet finished Trust Agents, by Chris Brogan and Julien Smith. Between two conferences in the last week, travel, and the first week of school, reading time has been short. But combining what I have read so far with what I have SEEN in the last 7 days, I can unequivocally say that everyone needs a copy of this book.
A week ago I could barely tell you who Chris Brogan and Julien Smith were. What I could tell you was only from what I read others said about them. Fast forward a week and I could talk your ear off about why I believe in them not because of what they say but because of what they do.
I first saw both Chris and Julien speak at Affiliate Summit. They outlined some of the main points of their new book. That would have been sufficient enough to make me read it. However, actually meeting them and talking to them about what they do and how they do it made me not only want to read the book but also tell everyone I know about it. Chris and Julien have that way of talking to you like you are the only person in the room. You WANT to believe them not because they are buttering you up or trying to sell you something. Instead, they are giving you little pearls of wisdom about how you can be successful.
A few days after Affiliate Summit I had the chance to meet Chris again at Blog Indiana. How excited was I when he called on me by name during a Q&A session? It was a perfect example of how he operates. You build trust, in part, by empowering people. I walked away from that Q&A feeling like a million bucks.
Trust Agents is all about how you use turn personal connections to leverage your message–whatever that message may be. In a "virtual" world where you are more likely to come across someone on Twitter or Facebook than at your local coffee shop, it can be difficult to establish trusting relationships. Trust Agents teaches you how to become a trust agent yourself and how to build relationships with other trust agents (what they call the Agent Zero of each network).
If all of that above isn't enough to make you want to buy your own copy of Trust Agents, just do a quick Google search and see what everyone else is saying. Learn from people who are DOING it and not just talking about it. Learn from the people who are building networks of trust all over the place–Chris Brogan and Julien Smith.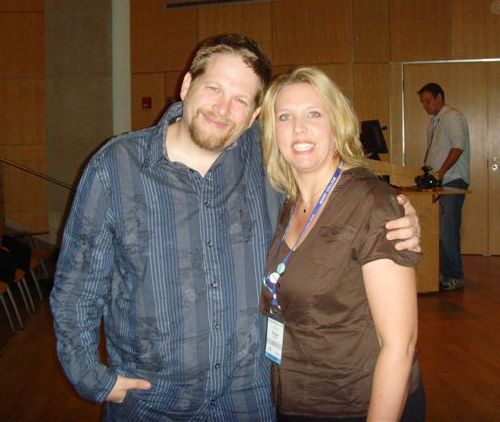 (Chris Brogan and I at Blog Indiana after his keynote)